New Creamy Builder Gel JOIA vegan 一 modeling gel in 4 luxurious shades!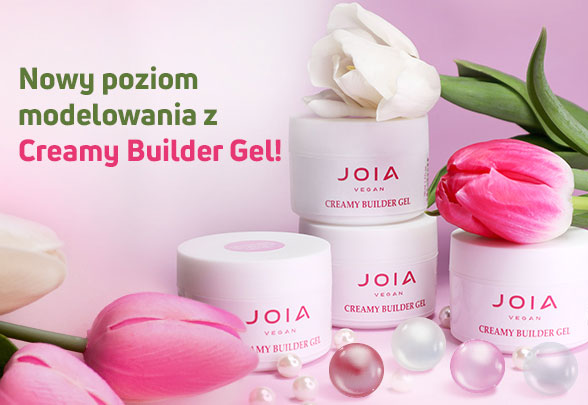 Creamy Builder Gel JOIA vegan 一 a professional gel system for nail modeling with exceptional self-leveling properties.
The innovative formula of the gel allows not only to create nails of the desired length and shape, but also to take care of the protection and strengthening of natural nails. The smart consistency of the material opens up a wide range of uses for masters:
modeling and correction in the technique "without filing";
creating a form, architecture, hiding flaws;
lengthening of the nail bed;
creation of an extra-stable transverse arch, without subsidence;
strengthening of thin, brittle nails.
Discover a new level of modeling with the multifunctional Creamy Builder Gel JOIA vegan!
We know exactly which shades girls adore, so the Creamy Builder Gel JOIA vegan palette will not leave anyone indifferent.
Angel White

Refined milky white color of the gel, which is associated with purity, freshness and lightness. As a symbol of true, innocent love, this shade will be an impeccable option both for a stylish monochromatic coating and for special events, such as a wedding.
Amber Rose

Is an elegant amber-rose shade of the gel system. This color is associated with the most poetic image of love. Its special and passionate character will perfectly rhyme with other materials in French manicure and various designs.
Pink Yogurt

Milk-pink shade of gel. The refreshing cold undertone of this pigment will emphasize the harmonious beauty of your hands. Having seen this color among others, you will not be able to take your eyes off it, as if a showcase with exquisite desserts appeared before your eyes.
Crystal Clear

Is the flawless transparent gel you've been dreaming of. For creating architecture under gel polish coating, for aquarium modeling techniques or for strengthening nails in the style of "natural nails without coating". The purity of the crystal fascinates and inspires experiment!
ADVANTAGES:
multifunctional material: strengthening, building up, creating flawless architecture, lengthening the nail bed, use in techniques "without filing";
comfortable consistency and instant self-leveling;
perfectly holds the transverse arch and does not sag during the polymerization process;
dries perfectly in a lamp;
without odor.
APPLICATION METHOD:
Prepare the nail plate and apply auxiliary liquids: Nail Dryer JOIA vegan and Nail Primer JOIA vegan.
Apply a thin layer of UV/LED Latex Base JOIA vegan. Polymerize for 60 seconds in an LED lamp.
Set the form (if necessary), apply UV/LED Creamy Builder Gel JOIA vegan, creating the desired shape and length. Polymerize for 60 seconds in an LED lamp.
Apply a second layer of UV/LED Creamy Builder Gel JOIA vegan in the alignment technique, creating the necessary nail architecture. Polymerize for 60 seconds in an LED lamp.
If necessary, file and remove dust with a degreaser.
Apply JOIA vegan gel polish / create a design / cover with JOIA vegan top.
The product is available in volumes of 15, 50 ml.