Meet new shades of stunning reflective gel polishes 一 Flash Nude JOIA vegan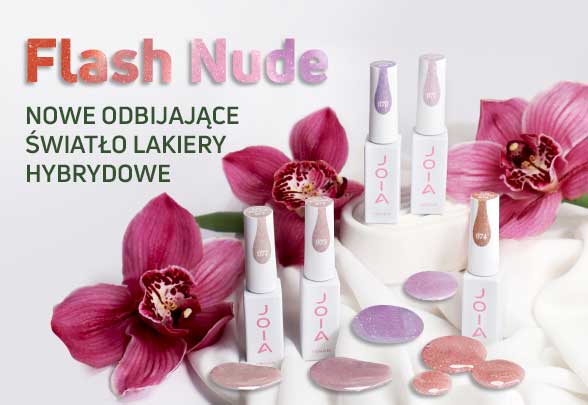 Let's dictate the trends!
Meet new shades of stunning
reflective gel polishes 一 Flash Nude JOIA vegan
To act within the framework of own emotions, to declare vividly and to be in a balance between courage and tenderness 一 this is what we like. We embodied these feelings in the new Flash Nude JOIA vegan reflective shades.
Beige can be spectacular, a nude palette can be brilliant, and everyday coverage can be unsurpassed. The duality of the possibilities of reflective gel polishes makes them a truly universal option for modern fashionistas. Saturation of the material with reflective elements creates the effect of a precious, three-dimensional shimmer in daylight, and the glow of a diamond scatter under a flash.
The gel polishes of the new Flash Nude JOIA vegan collection, like visual aphrodisiacs, go against banality and boring generally accepted norms.
Gel polish 070 JOIA vegan, lilac. It is a delicate lilac shade with a reflective extravaganza that spins you in a dance of radiance. This is your personal metaphor for the courage to be different, the way you want to be. One-tone coating, cute art-french or unexpected nail art 一 this shade can realize any idea.
Gel polish 071 JOIA vegan, pale pink 一 mix of reflective shimmer and elegant light pink color. The exclusive shine of the coating will be an undeniable bid for success. The dance of sparks of this gel polish intrigues and emphasizes your self-sufficiency. The time of change has come, now you are in the center of attention, enjoy!
Gel polish 072 JOIA vegan, delicate nude 一 light-beige reflective gel polish that flashes with a diamond shine in a matter of seconds. A nude shade has never been so luxurious. The aesthetics of this material gives the master the freedom to implement the most daring ideas: from full coverage to use as an addition to nail art.
Gel polish 073 JOIA vegan, candy pink 一 exquisite pink-beige color of light-reflecting gel polish, which not only changes your nails beyond recognition, but transports you into the atmosphere of a holiday and an elegant girls party. The feeling of self-confidence will not depend on anyone, because with such a coating you will definitely be on the next level.
Gel polish 074 JOIA vegan, peach 一 riot of reflective elements in peach gel polish will not leave anyone indifferent. This color gives the image sensuality and special mystery. The exceptional shimmer is revealed every time in a new way, depending on the intensity of the rays.
ADVANTAGES:
safe formula 15 FREE;

medium density, thanks to which they can be applied independently without a colored base;

balanced consistency that instantly self-levels;

contains many reflective particles of different sizes and interspersed with decorative mica;

fascinates and resembles a diamond crumb;

ideal option for spectacular coverage and trendy designs.
APPLICATION METHOD
Prepare the nail plate and apply auxiliary liquids: Nail Dryer JOIA vegan and Nail Primer JOIA vegan.

Apply a thin layer of UV/LED Latex Base JOIA vegan. Polymerize in an LED lamp for 60 seconds. If necessary, remove the sticky layer.

Apply JOIA vegan reflective gel polish in 2 layers, polymerizing each for 60 seconds in an LED lamp.

Apply Aqua Gloss Top JOIA vegan.
The product is presented in a volume of 6 ml.