We tempt you with the collection "Luxurious and Exquisite" PNB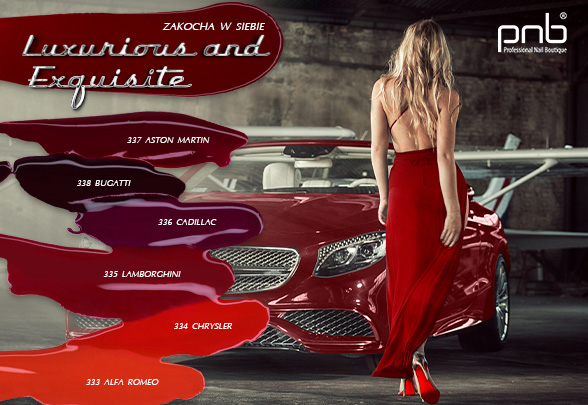 25 January, 2023
We tempt you with the sumptuous collection
of gel polishes "Luxurious and Exquisite" from PNB
In the women's world there is a secret that everyone knows: red can change everything! The magic of this pigment attracts attention, makes you fall in love and leads you along. The power of red manicure literally captivates the eye, as if a luxury car is gaining speed before your eyes. We decided to give women the opportunity to choose the perfect shade for each and created an exclusive collection of red gel polishes "Luxurious and Exquisite" from PNB.
| | |
| --- | --- |
| | 333 Alfa Romeo, scarlet 一 bright and energetic red color with an orange undertone. It evokes special sensations, as if you are trying to hold a silk scarf while driving a lightning-fast Alfa Romeo on a serpentine somewhere in the south of Italy. Such an expressive shade will turn even short nails into a passionate accent of your image. |
| | |
| --- | --- |
| | 334 Chrysler, red 一 classic red pigment, universal variant of the palette. The hot and passionate energy of a manicure with such a shade is like your winning lottery ticket to the world of luxury and beauty. The Chrysler color evokes special emotions, as if you are catching a warm breeze while driving along the ocean coast at sunset. |
| | |
| --- | --- |
| | 335 Lamborghini, carmine 一 exclusive red color with a cold undertone. The energy of this shade encourages bold actions and deeds. To feel the vibe of the Lamborghini color, imagine yourself behind the wheel of this luxury car, there is an empty highway in front of you and all that remains is to press the gas to the full! Long or short, monochrome or decorated, nails with this shade increase the level of adrenaline in the blood. |
| | |
| --- | --- |
| | 336 Cadillac, maroon 一 burgundy shade that is undoubtedly associated with success, luxurious life, private parties and unique opportunities. Acceleration from 0 to 100 is nothing compared to the speed with which you will fall in love with this pigment. Feelings with a new manicure in the Cadillac shade are so amazing, as if you are sitting in the new salon of this car. |
| | |
| --- | --- |
| | 337 Aston Martin, ruby 一 rich ruby color from the "Luxurious and Exquisite" collection by PNB. An ideal choice for fatal and fearless beauties, because these girls accompanied James Bond in his spy adventures. For a spectacular image, only one detail is missing - a manicure in the Aston Martin shade. |
| | |
| --- | --- |
| | 338 Bugatti, vinous 一 deep wine color gel polish. Such a luxurious shade is not subject to time, rules or restrictions. Just as the turbo mode of the famous Bugatti breaks through the ceiling of speed limits, this pigment becomes an infinite space for experiments by real virtuosos of creativity in nail art. |
BENEFITS:
trendy shade;

dense pigmentation and chic gloss;

comfortable application in 1-2 layers;

flawlessly self-levels and distributes over the surface of the nail plate;

the coating seals the nail, preventing brittleness and exfoliation;

increased durability of manicure up to 3 weeks;

does not change color during the entire wearing period;

safe 7 FREE composition.