Unsurpassed bases with potal Camouflage Base PNB Coquette Girl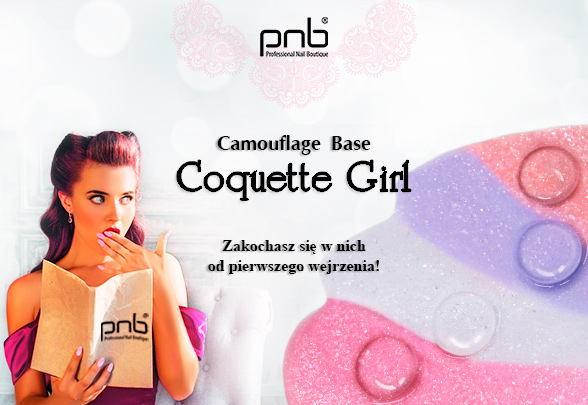 26 January, 2023
We present to you a luxurious addition to the Camouflage Base PNB line — unsurpassed bases with potal
Self-confidence, charm and a special aura around do not need reasons. Be yourself and radiate flirtatious energy by choosing the new shades of Camouflage Base PNB, Coquette Girl.
According to its characteristics, Camouflage Base PNB, Coquette Girl is thicker than the usual base. It has an average degree of viscosity, so you can easily level the nail plate. This is a unique material that combines the ability to strengthen nails, exquisite color and design in one bottle.
This coating allows you to do without gel polish, as it has a good density and saturation of shades. It saves time, shortening the process of creating a decorative manicure.
We know the most elegant way to fall in love with the decorative leaf 一 is to choose Camouflage Base PNB, Coquette Girl. Refresh your base coat palette with stunning colors from your favorite brand.
Shimmering particles of decorative mica emphasize the beauty of the nails and will become a graceful highlight of the overall image. Thanks to a significant amount, the particles sparkle from different depths of the coating.
Lightness, magnetism and attractiveness in every stroke of Camouflage Base PNB, Coquette Girl. Fall in love with them at first sight!
warm beige color of a rubber base with many silver leaf particles. One look at this shade transports you to an atmosphere of refined boudoir, women's secrets, attractiveness and harmony. This coating will be a great alternative to the usual nude manicure.

Garter Belt, light violet
refreshing soft violet base color with silver mica particles. The shade on the nails can be a small but key detail that will turn an ordinary image into something magnetic. Shimmering accents in the composition of the base will make your head spin and accelerate your pulse, as well as the beauty of the lace of the garter belt. Coating with Garter Belt shade will look spectacular, both in a monochrome version and with a contrasting design.

Pearls, milky

creamy-milky color of the camouflage base with a sprinkling of radiant potal. The shade is similar to exquisite pearls, it can be safely considered a new classic. Such a coating is associated with elegance in the old money girl style. This color is a symbol of femininity, quickly captures the eye and does not let go of its embrace for a long time. The Greeks believed that pearls are the tears of the goddess Aphrodite. And we are sure that these were tears of happiness.

pink base coating with silver mica, which will become a special accent of your image. There are details that hypnotize, attract, beckon and tempt like magic. This is exactly what happens with one look at such a shade. As a lace corset emphasizes the lines and curves of the female body, the color of the Corset base awakens the imagination and gives a feeling of harmony and 100% self-confidence.
BENEFITS:
elasticity and plasticity of the material;

high level of adhesion;

does not spread;

strengthening and design in one bottle;

the glow of mica gives the coating the effect of depth;

creates stunning visual effects, multi-colored reflections;

7-free composition;

rich pigmentation with silver potal;

perfect application;

flawlessly self-leveling, splashes of decorative parts are perfectly distributed;

does not injure the nail plate;

without odor;

does not chip;

does not hurt in a lamp;

does not require additional sawdust;

long wearing time;

an ideal choice for trendy designs;

reduces the working time of the master by ~10-15 minutes.
APPLICATION METHOD:
Prepare the nail plate with a PNB buff 180 grit or a file with an abrasiveness of 240 grit, removing the gloss from the entire surface of the nail.
Apply the auxiliary liquids: Nail Dehydrator PNB and Bond Control PNB to the entire plate.
Apply a very thin layer of UV/LED Scotch Base / Universal Base / HEMA FREE Base PNB.
Apply a thin layer of UV/LED Camouflage Base PNB, Coquette Girl with a rubbing motion, seal the free edge, dry for 90 seconds.
Apply the second layer, place a drop of the base on the highest point of the nail and evenly stretch it to the free edge. The thickness of the material should not exceed 1 mm. Dry for 90 seconds in an LED lamp.
Create a design / clever with a PNB top.